A backpack lunch cooler makes it much more convenient to carry meals to work or school. Sure, insulated lunch bags and soft-sided coolers can keep your food and drinks cool, but they don't let you keep your hands free like a backpack can.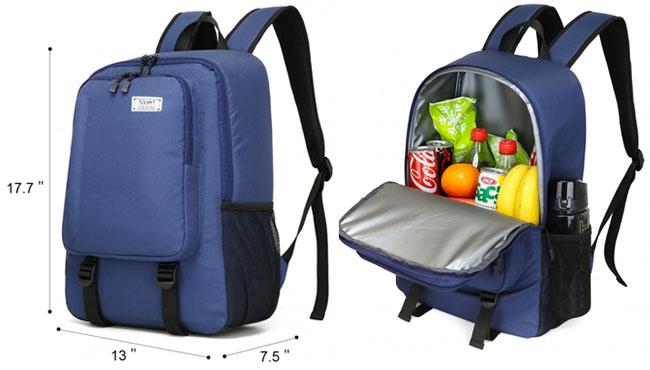 I particularly like this lunch cooler because it provides a significant amount of interior cooling space. Plus, it includes a back pocket to keep smaller dry items that don't need insulation.
A Great Insulated Lunch Backpack… for Everyday Use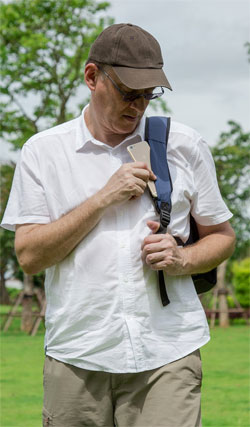 Of course, you can use this sturdy pack for camping or hiking trips. However, it makes a terrific lunch carrier for everyday use.
Unlike many other thermal lunch bags, this one gives you lots more storage space. In addition, it comes with a handy mesh pocket built into the shoulder strap – perfect for carrying your smartphone, wallet or keys.
Heck, I'd like this feature on ANY backpack!
It Can Carry More than Just Your Lunch…
If you bike to work or commute by bus, keep in mind that this backpack lunch cooler can also perform other duties. For example, it makes a convenient insulated grocery bag for refrigerated or frozen items.
Note: Typical insulated grocery bags keep interior items cool for only 5 hours (half as long!). Plus, you can't securely strap them to your back.
Clever Backpack Design:
As you can see by the dimensions above, the square design of the backpack compartments allow you to carry more items without the bag being too bulky. In addition, the narrower depth gives the bag a more snug fit against your back (easier and more comfortable when you are riding a bike!)
Do you want to get more exercise or simply save money on gas? An insulated backpack gives you a great excuse to live greener, be healthy and spend more time outdoors.
How Long Do Items Stay Cold Inside the Backpack Cooler?
The high density foam insulation keeps food and drink cold for up to 10 hours. That said, the exterior temperature can affect this. Plus, frozen items will stay cooler longer than things that are simply refrigerated when you place them in the bag.
By the way, if you want to keep items cooler for longer periods of time (16 hours), I suggest using small blue ice packs. They stay frozen longer than regular ice cubes, plus you can keep re-using them. (Or consider Flexifreeze Ice Sheets.)
Low-Maintenance, Easy-Care Cooler:
Due to its heat-sealed, leak-resistant compartment and large opening, this backpack is mess-proof and easy to clean. This factor can be a deal-maker (or breaker) for me when I'm shopping for bags, because a pack that is a hassle to use will quickly end up in the closet. (You know what I mean.)

Tourit Backpack Lunch Cooler Specs:
Interior Capacity: 28L (or 28 soda cans)
Leak Resistant
Weight: 1.1 lbs (Ultra lightweight!)
Dimensions: 17.7″ tall x 13.0″ wide x 7.5″ deep
4 Color Options: Black, Grey, Dark Blue and Red