Coleman makes a great 30-can soft cooler that isn't really a backpack. That said, you can carry it like one with the strap across your chest. Plus, there are 3 more reasons I decided to include this cooler bag on our site…
1. Soft-Sided Cooler Includes Hard Liner Too
Unlike other soft backpack coolers, however, this bag also includes a hard plastic liner that you can use or remove. This feature comes in handy when you carry delicate items that you don't want to get squished.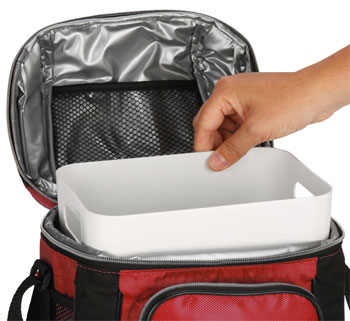 In addition, it adds an extra layer of insulation, leak protection and structure to the bag. It kind of looks like a square-shaped ice bucket. Fill it partially with ice to keep drinks cold, and you don't have to worry about water leaks.
On top of that, you can actually lift the hard liner out of the backpack because it has handles on 2 sides. For some people, this can make for easier transport.
On the other hand, you may choose to forgo the hard liner and use blue ice to keep your food/drinks cold. The flexible outer PEVA material (polyethylene vinyl acetate) is easy to clean, so you don't necessarily need to use the hard interior liner. Plus, it has heat-welded seams to prevent leaks.
By the way, most people prefer PEVA to PVC in products because PVC can contain a mix of chlorine, BPAs, Phthalates and other potentially harmful chemicals.
Note: The Coleman soft liner provides antimicrobial protection. Therefore, it resists odors, mold and mildew.
2. Coleman Gives You Multiple Carrying Options:
This cooler bag comes with a padded and adjustable shoulder strap that you can carry like a shoulder bag or across the chest. In addition, the bag has 2 side carrying handles. Since this larger cooler can become heavy, especially if carrying 30 cans, this feature comes in handy.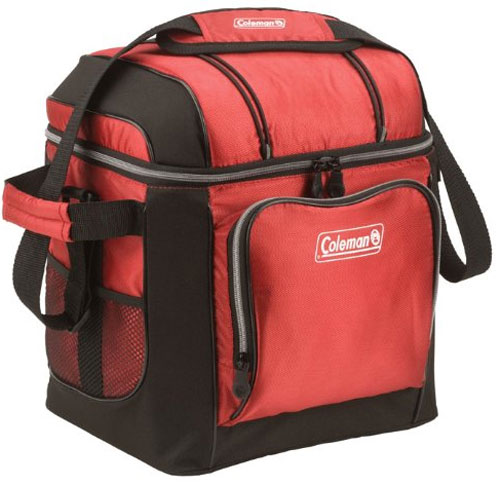 3. The Soft Cooler Bag Also has Extra Storage: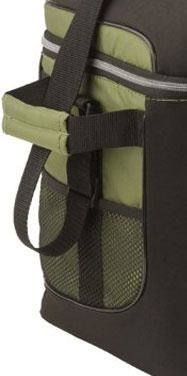 You can see that this cooler also has additional outer storage. For example, the back has a large zippered pocket for dry items or gadgets like bottle openers, napkins or utensils. It also works well for things you want to keep secure like your phone, keys, chapstick or camera.
Plus, it has 2 side mesh pouches. These work well for transporting water bottles or sunscreen, by the way. If you want some things to be easily accessible where you don't have to open the cooler, thick them here.
Lastly, the top lid features bungee straps for securing even more stuff. Think hats, small towels or articles that you can clip on the bungees.
Coleman 30 Can Soft Cooler Review Video:
The following video shows you all the different features and functions of this soft sided cooler. Note: The model shown is a smaller 9-can size, but the features and design are the same.
Coleman 30 Can Soft Cooler Specs:
Dimensions: Approximately 14″ long X 10″ wide x 12″ tall
Capacity: 30 12-Ounce Cans
2 Color Options: Red, Green
FDA-Approved Liner Material for Safe Contact with Food.
Hard Liner Made in USA, Bag Made in China