Igloo makes a line of soft coolers that feature "MaxCold" insulation which contains 25% more foam. This helps keep the interior contents remain cooler longer.
Note: The Maxcold Backpack has sold out. However, Igloo has a better, newer version of the Maxcold backpack called the "Igloo Switch".

This pack features 25% more insulation as well as a very durable 600D exterior fabric. In fact the company calls it a Marine Backpack due to its heavy-duty construction.
I really like their backpack design because it has adjustable padded shoulder straps that have breathable mesh. They are very comfortable, and they make the cooler easier to carry that the duffel or tote versions. Plus, you have your hands free to carry other stuff if needed.
In addition to the cooler itself, this MaxCold cooler has some really nice features that make this backpack even more convenient.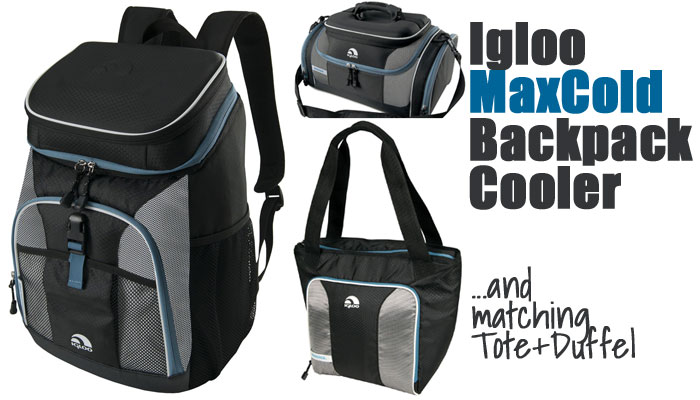 4 More Features that Make the Igloo Backpack Cooler a Good Buy:
1. Top Compartment
First, Igloo added a top compartment that is separate from the cooler. You can store smaller items here. This area is also insulated. This top section is designed to be "crush-resistant", so you don't have to worry about fragile items or foods getting squished.
2. Side Pockets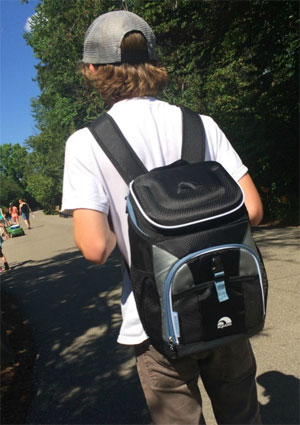 Second, there are 3 exterior mesh pockets both on the sides and rear of the backpack. I find these great for things like bottle openers, keys, cell phones, water bottles, etc..
These pockets make items conveniently accessible. For example, you don't have to stop and take off your pack to answer your phone if it rings.
Note: In addition to recreation, some people use this backpack cooler for work. The top and side pockets can eliminate the need to carry an extra handbag for personal items.
3. Leak Resistant Liner
Third, the interior liner won't leak because it contains a leak-resistant liner. This is huge! I mean, who wants their back to get drenched from a leaking cooler while they are hiking?
4. Low-Maintenance
Fourth, you won't have to spend a lot of time cleaning this pack. It has a built-in antimicrobial liner. In addition, this feature helps the cooler smell better and last longer. Plus, who wants microbes anyway? =)
By the way, Igloo recommends spot clean with damp cloth.
Igloo MaxCold Backpack Cooler Specs:
Exterior Dimensions: 11.75″ long x 8.5″ wide x 16″ deep
Weight: 1.5 lbs
SKU: 00059986
Cost: About $35-$49