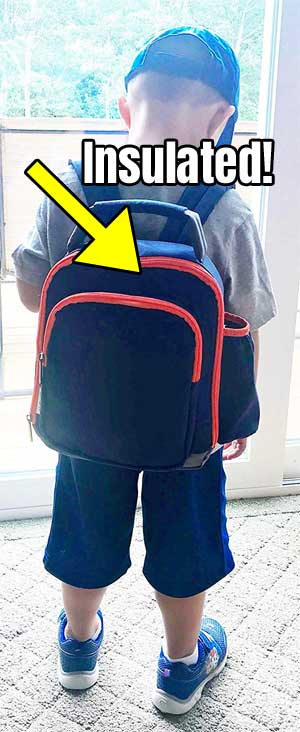 Do you want an easy way for your child to take meals to school and keep food cold? Check out this insulated backpack lunch box in one.
The Lunch Box… Made Better
The Fit & Fresh Mini Lunch Backpack is conveniently-sized for young children, plus it adds a layer of insulation and a waterproof lining. It also lets them carry their lunch box hands-free.
The padded, adjustable shoulder straps make this pack comfortable for children to carry on their backs. Alternatively, the Fit & Fresh includes a sturdy top handle. Therefore, kids can carry their lunch bag by hand if they want.
What Can the Insulated Kids Backpack Hold?
The main compartment includes an interior mesh pocket to help keep food and other items in place. For example, utensils and napkins fit conveniently well in the pocket.
In addition, this backpack features a convenient drink holder on the side. Without making the bag bigger, this accessory adds more storage space. Not to mention, it makes drinks easier to reach.
Furthermore, the outer zippered pocket helps keeps smaller things organized and non-food articles separate. Plus, it makes things like pencils, chapstick and sunglasses easier to find.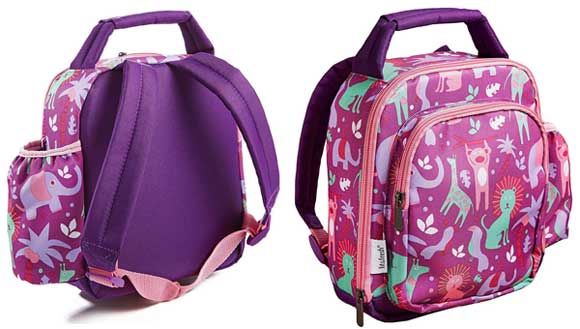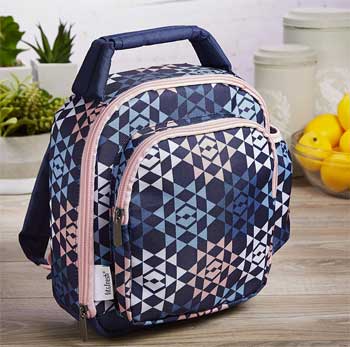 Fun, Compact Backpack that Even Adults Like…
This fun, colorful backpack comes in a few different colors and patterns.
In fact, some adults like the colors and compact size so much that they get one for themselves.
Purple & Teal
Navy & Orange
Jungle Animals
Pink & Blue Geometric Design
About the Backpack's BPA-Free PEVA Interior Liner: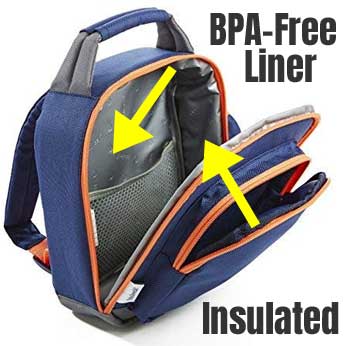 This kids backpack also features a PEVA liner on the inside. In addition to being BPA-free, it also is safer than PVC plastic because it does not contain chlorine.
Not to mention, it doesn't give off that chemical smell either.
Furthermore, it easily wipes clean with a damp cloth. In other words, this easy-to-clean backpack doesn't require lots of maintenance or care.
I don't know if the PEVA liner resists mold and mildew or has anti-bacterial properties. That said, many PEVA shower curtains do.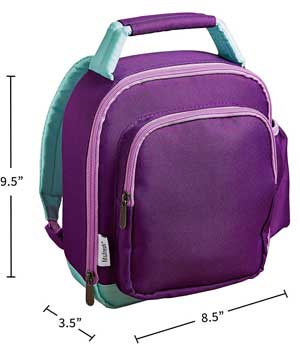 Specs for the Fit & Fresh Insulated Backpack Lunch Box:
Size: 9.5″ Tall x 8.5″ Wide x 3.5″ Deep
Weight: 6.4 ounces
Outer Fabric: 600D Polyester
Inner Lining: BPA-Free PEVA
4 Multi-Color Packs to Choose From
Model #: 2729KFF1909
Manufacturer: Fit & Fresh
Phone: 1.800.858.8840