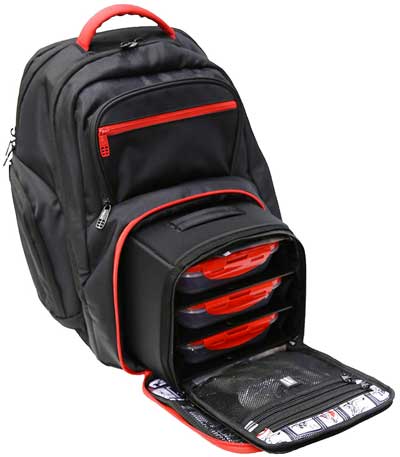 The 6 Pack Fitness Backpack does not have the features you'd expect from your typical backpack cooler.
In fact, this bag is designed specifically for fitness enthusiasts who want to want to pack and carry multiple meals with them throughout the day.
Of course, you don't have to be a gym rat to use this pack. Take it to work, school, hiking, traveling, fishing, hunting and more…
Not only can you transport chilled snacks an meals, but this pack provides plenty of space for workout gear, laptops and personal items.
Plus, you can organize all of your stuff into separate, easy-to-find compartments.
What's Different About this Backpack "Cooler"?
You Can Conveniently Remove the Insulated Compartment
that Keeps Food Cold Inside Your Backpack…
Rather than the entire backpack having insulation, you get what's called a "Removable Meal Core" that fits snugly inside the bottom pocket. This insulated section holds 3 stackable meal trays that you can easily access.
The backpack comes with 3 no-leak meal containers as well as 3 freezable gel packs. Therefore, you don't have to go out and buy additional Tupperware containers or blue ice packets.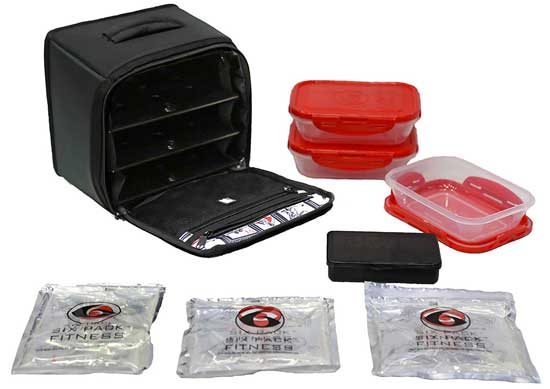 Note: By the way, these gel packs can keep your food cool for 8 hours. So, if you need to pack an afternoon or evening meal when you leave the house in the morning, this backpack cooler will work just fine. =)
Compared to other cooler backpacks the 6 Pack offers more versatility due to the detachable Meal Core.
For example, you can use the backpack with or without the cooler accessory, allowing you to use the pack for different purposes. Let's say you want to occasionally use your backpack for weekend travel or work trips.
Note: Unlike many backpack coolers, the 6 Pack Fitness Backpack can hold a laptop or tablet up to 15″ long. Therefore, if you want to use this pack for work or school, you can.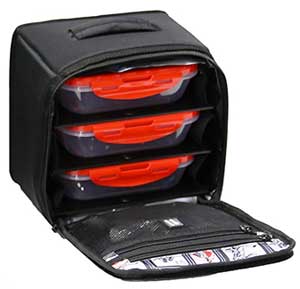 Alternatively, the Meal Core case has its own carrying handle. Therefore, you can use it by itself without the larger backpack. For instance, if you simply want to keep your lunch chilled at your desk at work.
Speaking of food, the 6 Pack Expedition Fitness Backpack comes in 2 different sizes. One carries 3 meals, while the other can hold up to 5 meals. Here are the dimensions:
300 Series: 12″ Wide x 12″ Deep x 17″ Tall
500 Series: 12″ Wide x 12″ Deep x 19″ Tall
5 Reasons Why I Think the 6-Pack Fitness Backpack is a Great Value:
In addition the versatility and functionality of this bag, I think this insulated backpack has some great design features. In fact, the well-thought-out construction of this pack make it very user friendly, comfortable and durable. Here are some examples:
1. This Fitness Backpack is Comfortable to Carry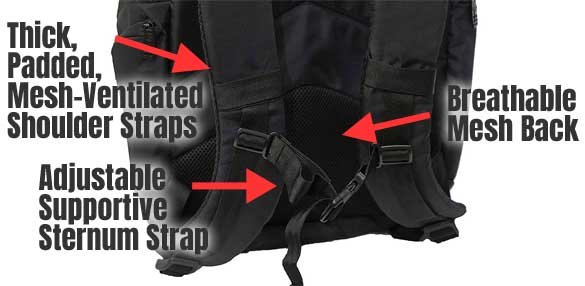 This backpack has wide, adjustable padded shoulder straps with a ventilated mesh lining. In addition, these straps come with an adjustable sternum strap that offers additional support and keeps the backpack securely in place.
Furthermore, the lower backside of the pack features padded mesh. Plus, you can carry the backpack by the top handle if you want.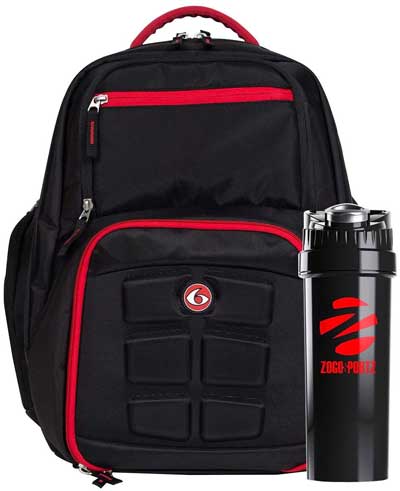 2. Pack Features High-Quality, Hard-Wearing Construction
The heavy-duty exterior nylon fabric is extremely durable, so it can last a long time, even with frequent daily use. Not to mention, its water resistant and resists stains.
Of course, the dark black material doesn't hurt when it comes to hiding dirt. =)
3. Portable Food Containers are Easy to Use and Clean
The plastic "Secure Lock" food containers can go in the freezer or the dishwasher. You can even warm up your food in the microwave in these containers (without the lids).
The insulated compartment even has a built-in "shelving" unit that makes inserting and removing containers effortless. Plus, it makes cleaning a breeze.
4. Quality Design Helps this Daypack Perform Multiple Functions at Once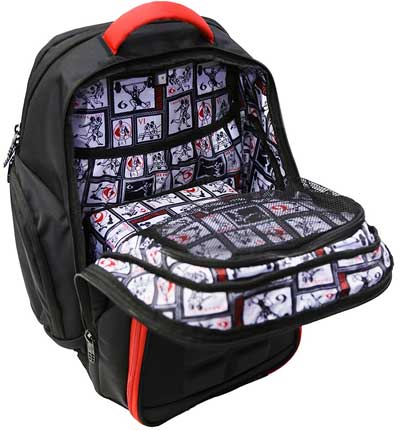 The backpack's side pockets have an anti-condensation design. Therefore, you don't have to worry about the cooler compartment affecting other chambers in the bag.
5. This Backpack Helps You Stay Organized
The backpack itself features 2 large storage sections (in addition to the insulated cooler).
However, the inside compartments contain several mesh and zippered pockets to keep your smaller items well-organized and easy to find as well.
Hence, you don't have to worry about your keys or wallet getting lost in the bottom of your backpack
Specs for 6 Pack Fitness Backpack:
Dimensions: 11″ Long X 13.85″ Wide X 17″ Tall
Weight: 5.7 lbs
Material: 840D Nylon Exterior
Color: Black Canvas with Red Trim
Includes Bonus ZogoSportz Cyclone Shaker (BPA-Free!)
Model #: AX-AY-ABHI-76600
Manufacturer: 6 Pack Fitness, Phone: 1-888-240-7009
6-Pack Fitness Expedition Meal Management Backpack Review:
If you want to see more about how the 6 Pack Fitness Backpack looks and works, check out the video review below for the 300 version: