Igloo makes 2 Sportsman Realtree® camo print backpack coolers that keep your drinks chilled and carry additional gear. However, you don't have to go hunting to use them.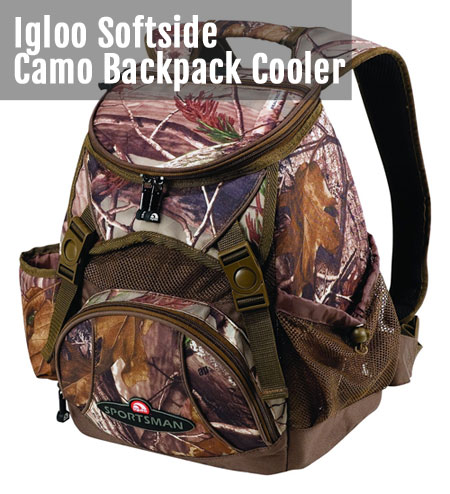 Softside Camouflage Cooler
Use these insulated packs for hiking, camping, picnics or work lunches. They can hold plenty of food and drinks, plus they have exterior pockets for carrying additional items.
Bonus: Igloo has heat-sealed the inside liner, so it will not leak.
These outer pockets not only keep electronics dry, but also place them within easy reach. You don't have to open and dig around the cooler to locate smaller items like cameras, phones, sunglasses, wallets, etc.. The bag even provides additional space to carry a water bottle.
Both packs feature adjustable padded shoulder straps as well as a convenient carrying handle. Having a hands-free cooler is a big selling point of these camouflage backpacks. They are comfortable to transport, whether you do it over your shoulder or by hand.
How are the Backpacks Different?
There is one main difference between these two versions. The hard top cooler has added a fully-insulated, crushproof compartment on top, which the softside model doesn't have. The molded EVA foam ensures that your fragile don't get squished – yet they also stay cold. Both bags cost approximately the same.
Softside Camo Backpack Cooler Specs:
Dimensions: 19″ tall x 10″ deep x 14″ wide
Capacity: 15.2 ounces, holds 18 cans
Model #: 54027
By the way, you don't have to always use this backpack as a cooler. Coincidentally, the polartherm insulation also acts as padding for any items that you carry – chilled or not.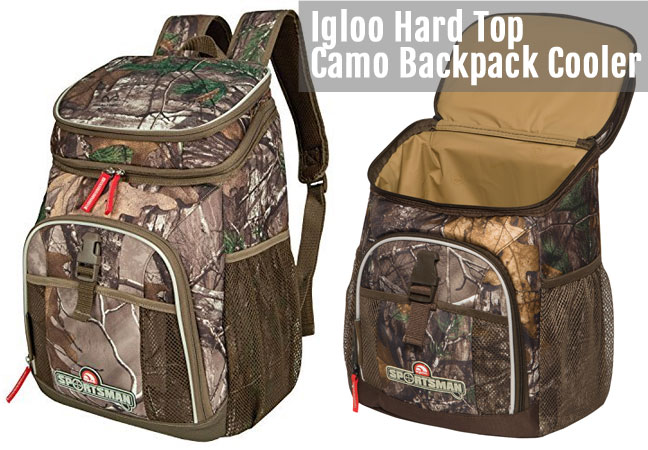 Hard-Top Cooler
Hard-Top Camo Backpack Cooler Specs:
Dimensions: 11.75″ wide x 8.5″ deep x 16″ tall
Weight: 1.2 lbs
Model #:59804
Cleaning Your Cooler:
First of all, the interior conveniently features an antimicrobial liner that is easy-to-clean. In other words, you can worry less about odors and stains.
Igloo recommends spot-cleaning their cooler backpacks with a wet cloth. That said, you may not even notice any dirt, since these packs are… camouflaged. =)