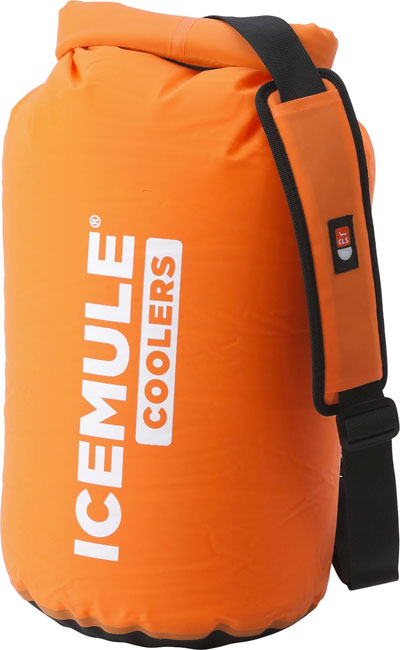 What's So Special About Icemule Coolers?
The Icemule cooler bag looks more like a dry bag than a cooler, and it works in much the same way.
The welded waterproof seams keep the interior ice and moisture from leaking out (rather than leaking in).
In addition, it's extremely well insulated, and it doesn't leak. This soft-sided cooler can actually keep ice solid for up to 24 hours.
By the way, do you want flexible, re-usable ice packs so you don't have to keep re-buying ice? Then check out FlexiFreeze Ice Sheets.

How Does the Icemule Compare to Other Coolers?
I think that the Icemule provides an easy-to-carry portable cooler for day-long or even multi-day outdoor excursions. It offers a great alternative for times when you don't want to lug around a giant ice chest nor have the space for one.
Strap it On:
The Icemule cooler bag comes with a comfortable padded carrying strap. You can sling it over one shoulder or adjust the strap to wear across your chest like a messenger bag.
However, it doesn't provide the more snug and secure fit of a backpack that you might prefer on longer treks. That said, it fits much more comfortably than a hard ice chest. =)
Roll it Up:
This cooler bag has another neat feature in that you can roll it up when you're not using it. It even comes with its own "stuff sack". This can definitely be more convenient and less cumbersome than a traditional ice chest.
The video below explains more about how this cooler bag works, the super effective insulation structure and more. By the way, the bag shown in the video is the smaller 15 liter version.
Icemule Cooler Bag Specs:
Dimensions: 16″ Tall x 12″ Diameter
Interior Capacity: 20 Liters (18 cans + ice -OR- 6 wine bottles + ice)
Weight: 3.1 lbs
Color Options: Green, Orange or Blue
About the company Icemule