Do you want a heavy-duty hiking backpack that can double as an ice chest, with 2 separate large compartments? The multi-tasking North Coyote Cooler Backpack not only can carry a bunch of gear, but it feels comfortable to wear too.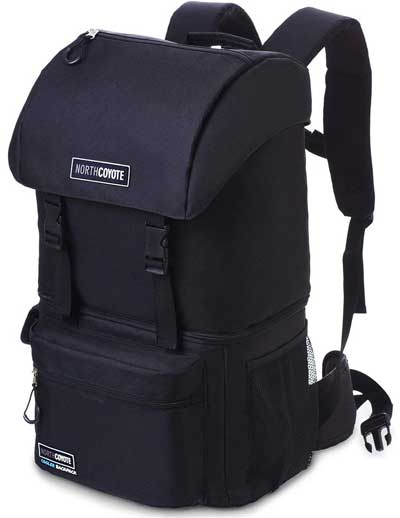 You Can Get a Lot of Use Out of This $35 Versatile Backpack Cooler…
Due to the multiple compartments along with the insulated cooler, this pack makes a great carrier for many different activities. In other words, you can get a lot of use out of this very versatile (yet inexpensive) bag.
For instance, you can take it hiking, camping and hunting. Because it is larger than many backpack coolers, the North Coyote can fit more items, making a better option for longer outdoor excursions.
Plus, the smaller outer side pockets provide easy access to certain items like water bottles, sunglasses, cell phones, cameras, snacks etc.. The North Coyote Backpack Cooler essentially gives you a little bit of everything when it comes to features and design.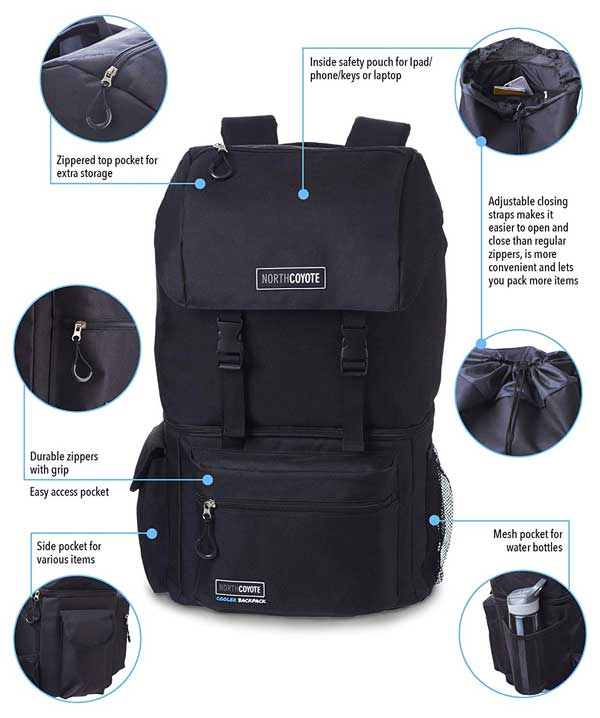 In addition, the insulated pocket makes this backpack cooler convenient for picnics, beach trips or as a work lunch bag. Keep drinks and snacks cool at kids' soccer games or while commuting to work – without having to haul around a giant cooler.
The segmented design of this cooler backpack make it a great option for when you want to carry lots of different items that you want to store separately. For example, some people even use this pack as a diaper bag.
Of course, it works really well as a school daypack, since kids can carry a laptop or tablet in the upper section as well. They can keep all of their gear easily organized (without even trying), not to mention their lunch cold. =)
And lastly, the larger capacity of the North Coyote bag gives you the ability to also use it as a travel or overnight bag. No need to buy lots of different luggage when you can use one pack in a variety of ways, right?
How is the North Coyote Backpack Different from Other Packs?
Although you might not be able to tell by looking at a picture, this backpack cooler is designed extremely well. For instance, the cooler lining has a heat-sealed structure, making it leak-proof.
Also, the thick, rugged straps along with reinforced stitching give you the reassurance you want while exploring the outdoors. Basically, you don't have to worry about being gentle with this bag.
Note: This pack has durable construction to hold up in the outdoors without a problem. However, the cooler will only keep its interior contents cold for a several hours, not days. For a 24-hour+ Cooler backpack, check out the Polar Bear.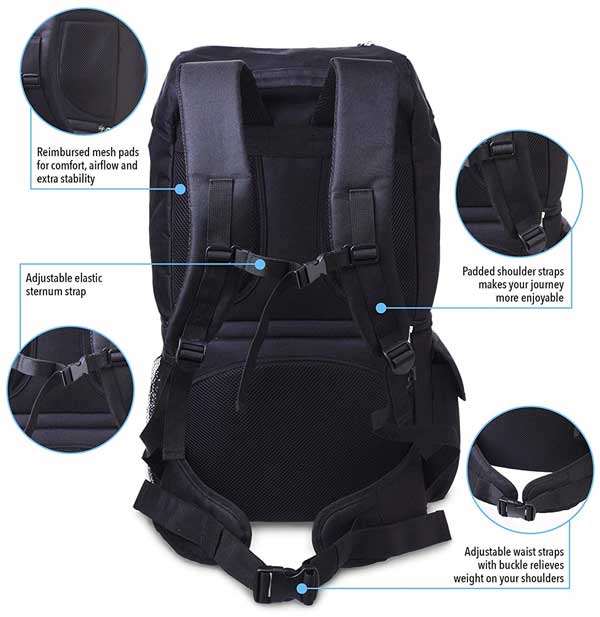 In addition to the high-quality materials, the adjustable and form-fitting padded straps turn this pack into a really comfortable bag. Furthermore, mesh padding lets air flow through the material, so you back doesn't get as hot while wearing it.
Both the chest strap and waist belt provide extra support, so you don't find your pack sliding around on your back. If you are doing an active sport, like climbing, biking or paddleboarding, we don't want that extra distraction, right?
Specs for the North Coyote Cooler Backpack: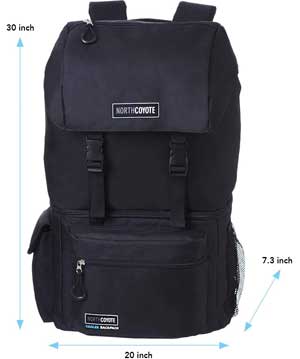 Dimensions: 30″ Tall x 20″ Wide x 7.3″ Deep
Weight: 2.4 pounds
Bag Capacity: 42 Liters
Insulated Compartment: 17 Liters
Storage Compartment: 25 Liters
Material: Water Resistant Heavy Duty 600D Polyester
Color: Black
Package Includes 2 Free Ice Packs
Brand: North Coyote