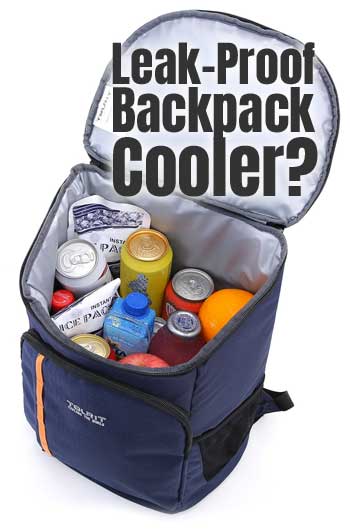 Do you want an insulated soft sided pack that you can use for picnics, hiking and day trips – without worrying about leaking?
The Tourit leak proof backpack cooler has a specially-designed heat-sealed inner liner that allows you to enjoy your outdoor excursions worry-free.
This Pack is Good for More than Just Stopping Leaks…
In addition to preventing unwanted spills, this leak-proof liner is lightweight and durable. In other words, it won't weigh down your pack, nor will it need frequent replacing.
Plus, since it keeps the inner contents tightly sealed, it helps keep drinks and food cold. In fact, with blue ice freeze packs, it can keep drinks cool for up to 16 hours!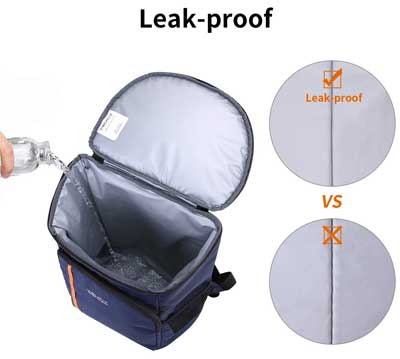 Of course, the high density insulation surrounding the liner helps with cooling. Furthermore, the food grade EPE (Expanded polyethylene) foam has impact absorbing properties.
This feature can come in handy if you happen to trip while hiking or you drop your bag on the ground. Double bonus!
This Insulated Backpack Can Carry More than Just Drinks…
But this cooler backpack does more than just chill beer and food. In fact, it has multiple pockets for carrying small gadgets, dry goods and even your smartphone.
Not to mention, it includes 2 side mesh pockets for stowing water bottles or other items that you want to access easily.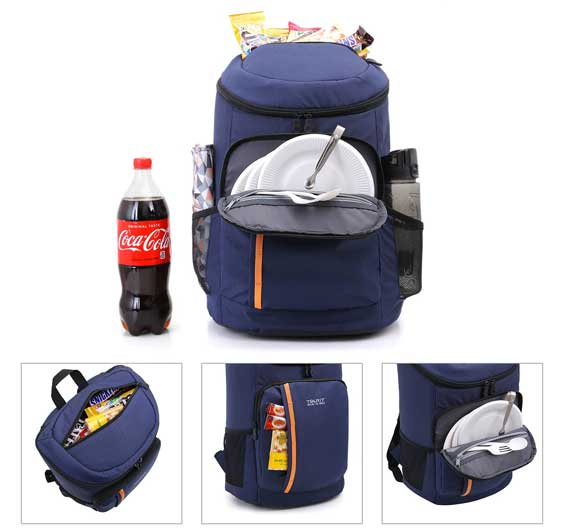 As you can see, this backpack includes the large insulated compartment, 2 side mesh pockets, 2 large front zipper pockets to keep utensils, 1 zipper pocket on the lid and 1 mesh pocket.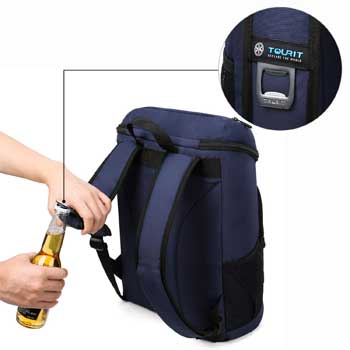 And don't forget the convenient bottle opener on the shoulder strap.
Not only do you not have to worry about forgetting to bring one, you can open a bottle without taking off your backpack!
This Leak-Proof Backpack is Comfortable, Durable & Easy to Clean Too!
And speaking of taking off your pack, you may not want to. I mean, the adjustable padded shoulder straps are designed for comfortable day-long use.
Plus, the backside of the pack has ventilated padding. Therefore, you can let your back breath a little on those hot sweaty days. (Although a cooler on your back will feel good too!)
You'll want to take it on all your trips: camping, hiking, fishing, kayaking, cycling and more. Not to mention, the Tourit makes a perfect daily lunch bag or day pack.
The 600 Denier Polyester outer fabric is ultra strong and tear-resistant. In fact, it's one of the most used materials when it comes to manufacturing bags.
Furthermore, both the outer fabric and inner liner are easy to clean.
Note: Instead of using regular frozen ice, the manufacturer recommends using freeze packs. You can get larger blue ice blocks that last a long time but take up more bag space.

Alternatively, you can get FlexiFreeze Ice Packs that you can bend and mold around the contents of your bag. They don't stay cold as long but typically take up less space because they're flexible.
Specs for the Tourit Leak Proof Backpack Cooler: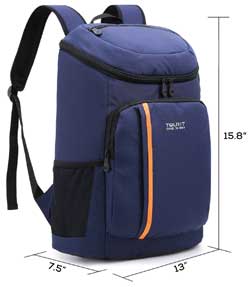 Size: 17.5 Tall x 13″ Wide x 7.5″ Deep
Weight: 1.2 lbs
Capacity: 30 12-Ounce Cans
Outer Material: 600D Oxford Polyester
Liner Material: Heat-Welded PEVA
Insulation: Food Grade EPE Foam
3 Color Options: Blue, Black or Grey
Manufacturer: Tourit
Lifetime Warranty