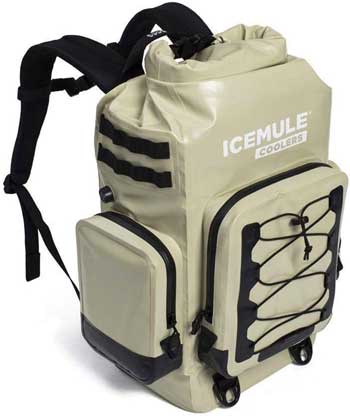 Icemule coolers stand in a league of their own, head and shoulders above other backpack coolers. In fact, most hard-sided plastic coolers can't even compare.
Icemule Boss Review: Multi-Day Ice Retention & No Leaks
The Icemule Boss Backpack Cooler can keep ice frozen for multiple days at a time. Therefore, it makes the perfect insulated carrier for multi-day backpacking, camping or kayaking trips.
Not only does this low-maintenance pack keep your drinks and food cold for days at a time, but it doesn't leak either. The welded seems on this insulated backpack make it just as leak-proof as a portable fridge freezer.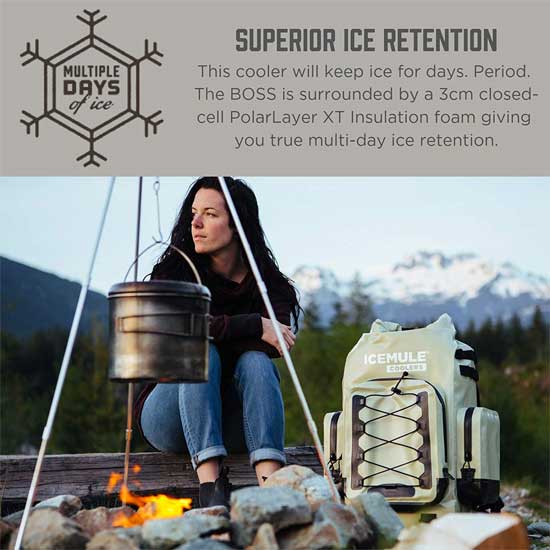 Furthermore, the rugged exterior fabric helps it function well in extreme outdoor environments. Plus, the material is waterproof.
It's no wonder that many outdoor enthusiasts depend on Icemule gear for the success of their trips. For example, people take these heavy-duty packs on hunting and fishing trips.
In addition, multiple exterior side pockets, straps and bungee cords provide extra storage for fishing poles and nets, flashlights, hunting gear, etc.. Plus the outside side pockets make gadgets and tools easier to access.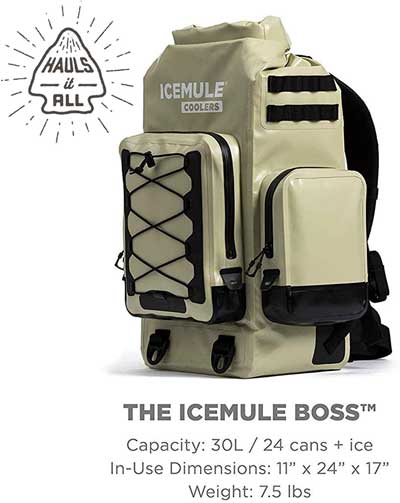 Hands-Free Portable Cooler Features High Performance Design:
And speaking of going on longer backcountry excursions, the Icemule Boss has a structural design that makes it comfortable to carry. If you're going to carry an ice chest on your back for hours, you don't want it to hurt, right?
First of all, the Boss features ventilated mesh shoulder straps and back pads. They are designed to help support your back as well as increase air flow.
In addition, the cushioned hip belt and sternum strap help the pack stay in place while preventing excess strain on the lower back. Therefore, you don't have to worry about your cooler bothering you as you hike up a steep hill. I mean, who wants that?
Specs for the Icemule Boss Backpack Cooler:
Dimensions: 24″ Tall x 17″ Wide x 11″ Deep
Weight: 7.5 lbs
Interior Capacity: 30 Liters (24 12-ounce cans with ice)
Weight Capacity: up to 60 lbs
Material: Premium Waterproof Technical Fabric with Welded Seams
3cm Closed-Cell PolarLayer XT Insulation foam
Color: Sand
Brand: Icemule
Phone: 904-325-9012
Note: Icemule also makes a smaller soft-sided cooler that's rugged and durable for the outdoors. That said, you wear it more like an over-the-shoulder or messenger bag because it has just one carrying strap.
By the way, Icemule packs are known for having "wide mouths" that allow you to pour large bags of ice in at once.
Consequently, the large opening also makes the packs really easy to clean. Not to mention, they dry out fast.
Icemule Boss VS Yeti Backflip: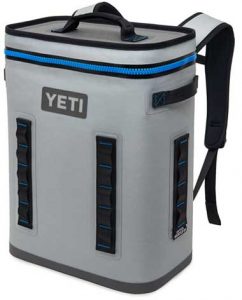 This Icemule backpack cooler looks very similar to the Yeti Hopper Backflip in its design. However, the Backflip lacks the outside pockets. Instead, it features molle straps.
Moreover, the Hopper Backflip is smaller and has less interior cargo capacity. That said, the compact size can be an advantage if you want a lighter-weight pack.
On the other hand, some people view it as a disadvantage because you can't carry as much gear as the Boss. (And, they both cost the same price.)